Picking through shoe organization ideas to find the right one for you is about as easy as pawing through the racks at the shoe store. This one's too high. That one's too flat. Those may look cute now, but they're going to leave you in tears after wearing them for an hour.
But the average man in America owns 12 pairs of shoes, and the average woman owns a whopping 27. So let's face it: Most of us need shoe organization ideas, and we need them now.
"Shoe storage is frequently an issue for clients because they have too many pairs that they don't wear," says Carrie Peeples, professional organizer and owner of NeatSmart in Atlanta.
"My first step is to work with them on weeding out what they don't wear anymore," she says. "It's surprising how many pairs people keep even though they don't fit or cause pain. Once we've cleared out the clutter, storage is much easier."
If you have a pile of unworn footwear that you can't bear to part with, don't fret. We asked the experts to weigh in on how to make sense of all those sneakers, loafers, and heels, so you can reclaim the floor of your closet without parting with your favorites.
1. Shoe organization ideas for the whole family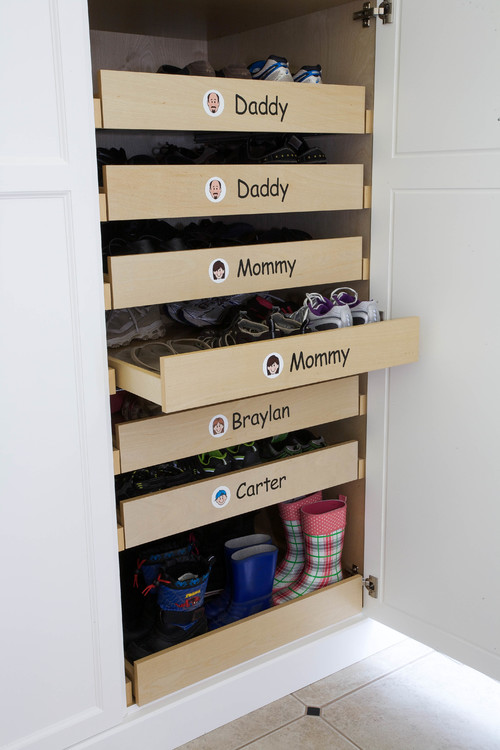 Some folks like to keep shoes in their respective bedrooms, but it's natural to take your shoes off when walking into your home, says Laura Kinsella, owner of Urban OrgaNYze Group, in New York City.
If yours is a "take your shoes off at the door" family, add deep drawers to a closet in or near your front hallway or in your mudroom for shoe storage. Labels for each member of the family will clue kids in on where to store their shoes and where to find them.
"To avoid a clutter 'dumping ground' by the entryway, take a few minutes every evening to reset," Kinsella says. "Put shoes back into their homes, and preset shoes for the next morning. This will keep our shoes in pristine condition and keep our morning routine in check."
Bonus: No more "Moooooom, I can't find my left sneaker!"